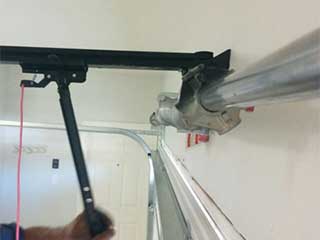 The garage door is one of the most neglected parts of a home. A study pointed out that about 50% of homeowners do not have a maintenance plan for their garage doors. Just like it is proper and imperative to maintain your car, your door deserves the same level of care. You should do proper checks on your door or have experts do them for you.
Be Warned
It is important to mention that you should be extremely careful when working with or around garage doors as they can pose a big threat to your health and safety. Do not allow your kids around the door because they can cause be seriously injured.
Simple steps to maintain your door
Having your door checked regularly can save you repair costs in the long run. You can carry out a few simple maintenance tasks weekly, monthly, quarterly, biannually, or yearly as required. Here are a few things you can do to maintain the look and functionality of your door:
Wash the outward facing part of your garage door with a cleansing agent, sponge and water, then rinse it with a garden hose afterwards. A clean garage door gives an impression about the cleanliness of the rest of the home.
Inspect your door regularly for damaged components like cables, hinges, tracks, rollers, etc. and replace them quickly.
Check for and tighten any bolts or nuts that may have come loose during the operation of the door. However, check to see that you only touch nuts and bolts that do not have warning labels on them. Leave those for the professionals to handle.
Check to see that the safety reverse function is still intact. To do this, put an object in the middle of the doors opening, then attempt to close the door using the remote or the wall button. If the door lands on the wood and doesn't return then it needs to be fixed.
Make sure you lubricate all moving parts at least once every three months using a lithium grease spray. Avoid using regular grease.
Wipe the photo-eye sensors with a silky, lint-free, dry cloth. Check to see if they are still in good working condition. You can do this by opening the door, and then push the wall button and as the door closes wave an object across the photo-sensor to interrupt the light transmission. If the door doesn't go back up then you need to call an expert to restore it at once.
These steps are quite simple and will not take more than a few minutes to perform but they can save you repair cost in the long term.