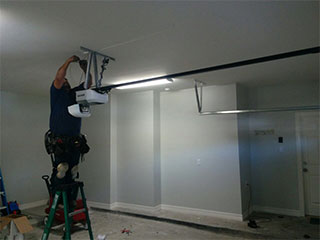 Your automatic garage door system can suffer from a wide variety of issues ranging all the way from something to do with its opener to problems with its springs. No matter where the root of the problem lies, you can rest assured that our team can handle it.
Malfunctioning Opener Repair
If your opener stops functioning correctly for whatever reason, count on our team to quickly solve the issue. We specialize in dealing with these electro-mechanical units, and there's no type of problem we haven't already encountered and resolved. From broken or worn out motor gears to fried circuit boards and even misaligned pulleys. Rest assured that we'll return your opener to its normal working condition.
Broken Spring Replacement
When a spring breaks, your door will be rendered inoperable. Not only that, but trying to force it to open or close can have catastrophic results. The risks are far too great for you to try and handle the situation on your own. These components are extremely dangerous, and must only be replaced by professional technicians. Our experts can get it done without risking anyone's safety.
New Door Installation
We work with all of the industry's leading name brands and our inventory is always inundated with the latest technologically advanced models of such companies as Genie, Craftsman and Liftmaster. Our experts will gladly help you choose the perfect door for you, and will advise and consult you on which material and what special features will be the ones best suited for your specific needs.
Always Here to Help
Our experts at Garage Door Repair Brooklyn are known for their strong work ethic and dedication to ensuring your complete satisfaction. We'll stop at nothing to ensure that any service we provide you with will have long lasting positive results. Don't hesitate to reach out to us for any related need.
We Also Offer:
Genie Garage Door Openers
Roll up Garage Door Maintenance
New Garage Door Remote Clickers