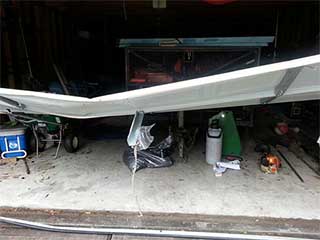 If your garage door is not working correctly, it can be a huge temptation to try to fix the problem by yourself. However, this can be a very dangerous endeavor, and should probably be avoided for a variety of different reasons.
Safety Should Be Your Prime Concern
A garage door can be incredibly heavy. Some door panels can even weigh upwards of three to four hundred pounds. These systems rely on the support of various components, such as the springs and safety cables, in order to move smoothly and safely. For this reason, attempting to handle it can put you at risk of a serious injury, or worse. Not only from the door itself but from the tension stored within its springs that can force these components to whip around unexpectedly when they break. Needless to say, anyone standing nearby when such a scenario occurs can be hurt quite badly.
The Right Skills and Tools
Dealing with these types of systems requires more than your average screwdriver. Special precision tools are used to perform any adjustment and realignment, and trying to complete these tasks without them will leave your door in a compromised condition. What's more, knowledge, experience and - most importantly - skill are crucial when it comes to this subject. It's one thing to supposedly "know" what needs to be done. It's another thing to actually do it. There's a reason professional technicians exist, and it's not for a lack of need for them.
The Monetary Aspect
Safety should always come first. However, money shouldn't be far behind. Buying a cheap counterpart instead of a component made by a manufacturer such as Chamberlain or Clopay is not going to be able to serve you the same way a brand name part will. As for the aspect of repairs, when trying to perform a certain task or action that is meant to improve the condition of your system, you can end up causing the very opposite, and may damage some other part of your door as a result, which will leave you in need of more costly repairs.
Experts Are Here For A Reason
In conclusion, it is far better to have a professional deal with the problem than to try and do something risky by yourself and live with the results. Contacting our team at Garage Door Repair Brooklyn can save you the time, the trouble, the money, and - most importantly - the risk. Call us today.