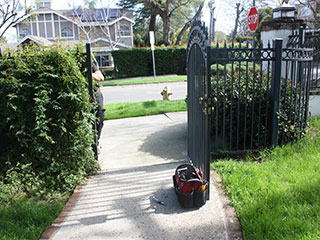 Our team at Garage Door Repair Brooklyn can offer you all sorts of solutions. In fact, we also specialize in servicing automatic gate systems, and our technicians can take care of any type of problem that's inflicting your swing or sliding gate.
This is What We Do
Some people choose to be astronauts, others go for being a firefighter. We specialize in taking care of automatic systems. Our technicians are highly dedicated to their work, and make sure that any job they perform is able to last for a very long time. We take pride in being one of the leading - if not the - service providers around, and want to meet and exceed your expectation and satisfaction during every service appointment.
Electric Gate Troubleshooting
If you're experiencing some type of problem but can't tell where it originates from, leave it up to us. We'll examine every inch of your system, test out its various functions and features and uncover the very root of the problem. Once we've diagnosed the issue, we'll immediately proceed with the right solution that will effectively fix it.
Automatic Gate Opener Services
A gate operates in a similar way to an automatic garage door, in that they both rely on an opener in order to not have to function manually. As a result of this dependency, there could be several electrical or mechanical issues that may prevent you from being able to use your gate. Our team can replace worn out motor gears, fix any type of circuit board issue and even adjust force and travel limits that will keep your gate from slamming into the end of its track. You can leave any type of opener-related problem up to us.
Intercom System Installation
Nobody wants to have to walk over to their gate when someone is waiting outside of it to be let in. Whether you have a commercial or a residential system, this type of interaction is far from desirable. Our experts can consult you on the various different types of intercom systems that are available today, and we can help you find one that will make answering guests and even operating your gate as easy as answering your phone.
New Gates and Products
Eventually, you'll need to have some part, or even your entire gate, replaced. That's definitely something we can help you with. We have a wide range of different models for you to choose from, and any product we sell can be relied upon to withstand the test of time. Once you've made an informed decision, our team will perform the installation process quickly and safely.
Anything You Need
There's no need for you to try and handle anything by yourself. You can leave all your gate-related needs up to our skilled specialists at Garage Door Repair Brooklyn. No matter how complex or how difficult of a problem you find yourself dealing with, our technicians can solve it. Call us today.
Want more? Let us take care of:
Sliding Gate Operator Repair
Gate Exit Sensor Installation